MARTEC II - Maritime Technologies as an ERA-NET

MARTEC II is supported by the European Commission ERA-Net scheme under the Seventh Framework Programme (2011-2014).

MARTEC II is a network of 30 ministries and funding organisations from 25 countries, responsible for the development and funding of national/regional research programmes on maritime technologies.

The following Europe map shows all participating countries. For more information please, click in the left navigation or contact us.
Involved countries in MARTEC II: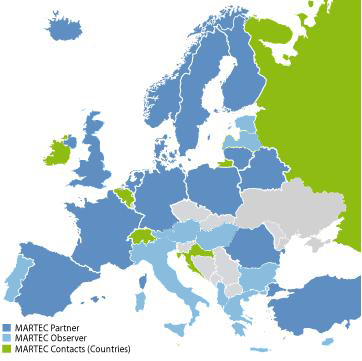 Project details
Full title:
Maritime Technologies II
Research field:
Shipbuilding, Ship and port operation, Maritime equipment and services, Inland water and intermodal transport, Offshore industry/technology, Offshore structures for renewable energy, Fishing/aquaculture, Polar technology, Environmental impact, Safety and security, Human elements

Co-ordinator:
Project Management Juelich, Germany
Duration:
4 years (01.01.2011 – 31.12.2014)

EC funding:
2 Mio. € (for ERA-NET management and coordination)
Project reference:
CA 266111
---